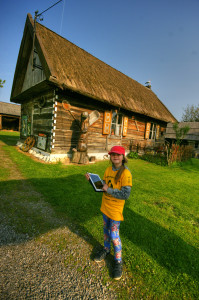 (text by Karolina Likhtarovich)
Keen to go on a journey back in space and time? Curious to learn intriguing new things about a community while playing and solving puzzles? Interested in finding out an area's local nature, culture and history? If so, quests are what will get you there!
Quests, also known as a voyages of discoverers or treasure hunt is an educational field game which is a method of learning about local cultural, natural and historical heritage, a form of educational tourism featuring riddles and puzzles. This method comes from the U.S., and has been introduced with success in Poland for some years already. Every region in our country has its own local quests. The benefits derived from them are its promotion of a healthy lifestyle and non-motorized forms of transport, which means that walking, biking, kayaking, horseback and even cross-country skiing quests exist but car and motorcycle quests do not.
What are quests about?
Quests are specific educational tourist trails described and presented in leaflets or on mobile applications. The rhyming text gives clues and cues to the traveler along the trail. It's important to read all of the cues and solve all the puzzles so as to keep one's bearings and find the hidden treasure at the end of the trail! The text of the quest is arranged in such a way that there are verses telling a story on a given subject and other verses which contain puzzles and clues to help find one's way in the area.
Who is quest for?
Voyages of discovery are geared toward everyone who is interested in the world – the more distant one as well as the one nearby, 'within arm's length'. Because they are an engaging way to learn about a given community/region, they are recommended for residents of local communities, counties and regions as well as for tourists and other visitors. It should come as no surprise that the best way to learn about a given aspect of reality is to experience it oneself, and quests give just that opportunity! For children as well as adults, families and group tours, quests are an attractive way to spend one's free time because they make learning fun!
Walking or bike quests are found in several areas along the Polish greenways. They tell the story of a given place through the prism of its cultural, natural and historical 'treasures'.